In the 32 degree evening heat the ice-sculpture melts away.  The heat returns the ice to water. The stylized dancer melts away and the bondage of her art melts into muddles of history.  Story has a way of enlarging fact, of focusing on the details that may one day matter.  Walking around the ancient capital of Angkor (built somewhere between 990 and 1200 ACE, likely in stages over the entire period) size and detail are dominant. Angkor was the capital of the Khemer empire and housed as many as one million persons.  This city was hidden for centuries and melted into the jungle till in 1863, two years after Mahout died, his graphic descriptions of a lost city and temples captured the imagination.  Mahout described one of the temples as a rival to that temple built by Solomon.  Last year "Lidar" technology was used to map the entire city of Angkor — clearly this was the greatest medieval city on Earth.  That brings me to the melt down.  There in the picture the jungle has reclaimed the land.  A root out of dry ground.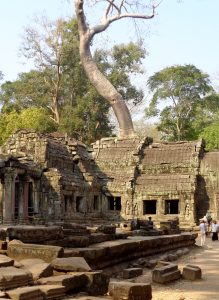 And then at the next turn the Ta Prom temple made movie star famous. The jungle sending roots into every crevice in the temple stones. A jungle reclaiming the land. Now this might just be a few invasive roots between a few stones, but this was a city of one million people lost to the jungle for over 500 years. Somehow our towers and babels and temples and schisms leave nothing behind. Our cleverness like ice returns to water.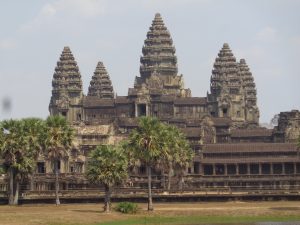 The anchor temple in Angkor is Angkor Wat. Cleverly constructed so that at certain angles the five nether regions of Hinduism are towered across the sky. Yet in an attempt at political correctness and when viewed from the appropriate angles the temple only appears with three towers (As it does in the Cambodian flag) and highlights the three marks of Buddhism (impermanence, suffering and nirvana). This amalgamation of two traditions earned the King loyalty from both corners of the Kingdom. The discovery of this ancient temple and its subsequent elevation to world heritage site has created attraction, attention and revenue.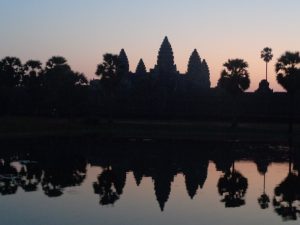 The oldest of the temples is Prasat Kravan. This temple predates the others in the compound by 50-100 years. These stones piled in the middle of this river valley were not placed so children might ask their meaning. These stones were a walled protection against the evil under the city, around the city and over the city. It is ironic that laser technology and a space race have created a resurrection from the forgotten for a whole city. Lasers dodged land mines and other remnants of war. How much will we forget? Remember? Will our story like all stories melt away? We know our temples will! There is this old hymn that goes, " Blessings all mine and ten-thousand beside…" Can you count? Every Resurrection a new beginning.