There, in the water dancing colours.  Dancing boats at sunset.  Brightly painted long-boats ferry visitors from beach to beach, from mainland to island and even from visiting ships to shore.  Over the hillside the sun is setting as the beach bodies gather to worship the vanishing sun.  In the crowd there are local residents who pause at sundown to pray and give thanks for the joy the sun brought them today.  The quiet prayers of the locals are lost on the one-more-sunscreen-lathering visitors.  For many at the tide-line this is the end of today.  This is the beginning of an evening of self-indulgence.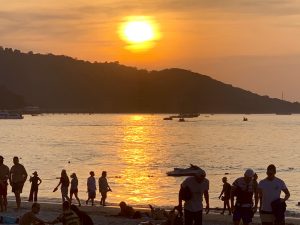 There, can you see how the size of the crowd has grown.  They are looking for a miracle.  They are looking for a word from someone that might restore the fishing industry.  A hope that this town might return to the people.  That this place burdened by visitors might find a new way to be. This the dry season and there are not even rains to bring relief from the visitors.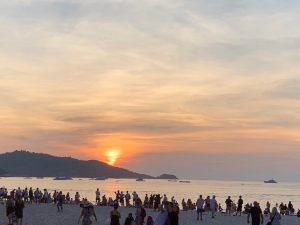 No matter how you face it, light dances.  Yes we tried another selfie and as our grandkids keep saying, "you make lousy selfies!"  I want to correct grammar and complain about the length of my arm… But I am in the sunset of my life… Gloriously with an end in sight.  A glorious end in sight!  Till then let me paint my boat bright!  Let me see every colour as a blessed gift.  A rainbow spectrum at sunset!