Just to set the record straight, we were going up the river, but it didn't have a catchy song title.  On the way up we saw the Royal Palace of Cambodia on the Mekong River, used the comfort station at the Raffles Hotel and sailed on through Oudong toward Tonle Sap Lake.  Now life along the river might be marked in highlights of wealth as these image show or by poverty and hard work as the next post will bear out.  Both extremes a visual feast.  A history lesson and weeping for peace.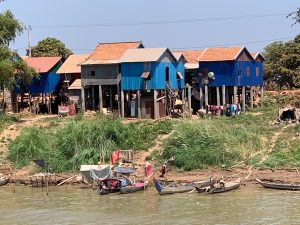 In the space between the red earth and the first floor of the house, hammocks and hard beds are suspended for a quick nap in the breeze.  The breeze changes direction from land to river creating a breeze that is both refreshing and cooling.  Air conditioning without power!  The stilts also prevent the flood waters from silting the main floor of the houses in high water seasons.  We visited during the hot season and the river waters were low.  Pumps and pipes carried water to the crops and in the rice fields beyond, the summer rice was reaching 70 day maturity.  The winter rice is grown slower and merits a premium price from the merchants.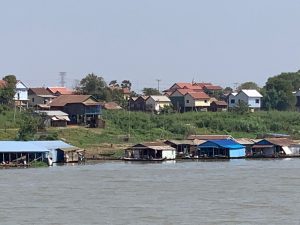 Alternatives to living with seasonally adjusted water levels include living in floating houses along the river.  Some of these are fish farms surrounded by housing.  Some of these floating houses are simply houses.  Some even have floating gardens attached for fresh produce.  The growing season along the river is 365 days per year.  Colour and creativity are coupled to create community.  A rudderless construction without rules, where common sense and nature prevail.