The poster advertises a weekly bull-fight, tourist class.  Oh the weeklies ended on the 19th and we will miss it.  The local restaurant operator simply said it was finished till next year.  He seemed happy.  The twisted streets and narrow alleys lead through the old town of Albufeira and twist to the escalator serviced tourist plaza below.  In the old streets a story of times past is written on the walls.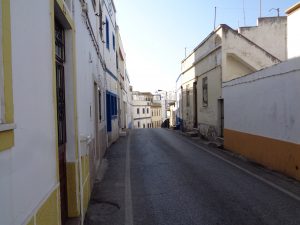 The twisted roads switch back and forth like mountain highways.  Each returning to the central square.  To the landmarks.  Past churches and the reminder that this was a fishing village.  Population 3,000 and swelling to 20,000 in peak season.  This morning a low cloud spreads an Atlantic drizzle over sun-bunnies.  It is amazing how In a few hundred miles (kilometeres would be PC) the landscape changes.  The ocean comes into view, the cliffs edge the Atlantic and the landscape is red.  The Sedona red of desert and cactii.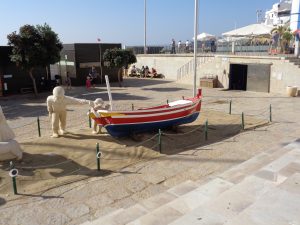 The remnants of the old village are preserved for a tourist class that lives in the surrounding white condominiums.  The only traces of a red dessert are underneath the whitewash of centuries.  There a floating door.  It is a bit like the bull-ring, preserved for tourists.  Discovery begins when you scratch back the veneer and see that the landscape is more than twisted roads, coffee bars and condominiums.  The bull-fight belongs to another era as do orange trees and gardens.  Some days it is difficult to determine what is worth saving.