When we started this trip I never contemplated the emotional exposure. I stopped to visit people on the way and one place we spent time was with Martin and Sue in Halls Harbour Nova Scotia and Martin and I had an extended conversation about that first intervention. The first time my friends told me my substance use was out of control and I needed to get some help. We laughed about the history and gave thanks for the gifts of recovery. We visited their children. We talked about ours.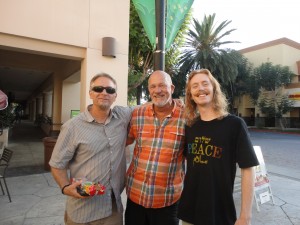 In Riverside we stopped to visit with Ron John and his son Travis joined us for dinner. Once again we shared stories of recovery and our dreams for our children and the hurdles and milestones along the way. Ron has always been an inspiration in recovery. We have travelled, laughed and cried together and as we were eating we received the call that Jason had died suddenly. I was comforted in his presence.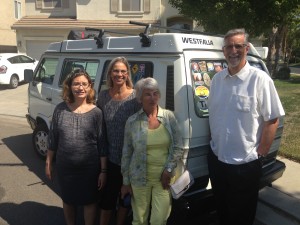 A few days later we stopped in Modesto California and spent some time with Erin and her parents, Anita and Ken. Erin had volunteered with Margaret when she was in Langley. Over lunch we talked about the years that have passed. Ken was also at my intervention and he reminded me of the great escape. The bolting. We laughed and shared stories of living in recovery. We talked about children, families and what life was like all these years later. Ken suggested a few books I might want to read and we returned to the journey renewed.
Some miles down the road we lost a water line, which we managed to fix, but the thermostat would not cool down. Something was wrong. An application of asking for help and the VW was carried by others as it went for service.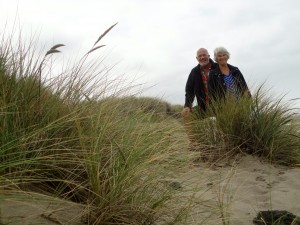 Days later the wind was twisting grass and sand in the dunes in Oregon and Margaret and I created this "selfie." We cheated and used the timer on a regular camera. I thought of all the storms I put her through and here we were enjoying the wind blowing through our hair or lack of it. After 47 years we can share story with our friends, put our children in their rightful place to pose for a family shot and spend 64 days in 70 square feet with time off for good behaviour. I am grateful for my new and renewed relationships.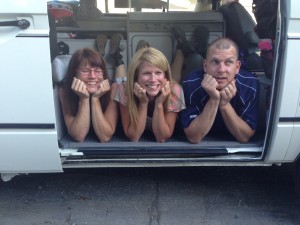 To begin a homecoming it meant picking up the phone and calling for help. A bit like getting a ride when your engine is failing. The team at the Last Door understood and invited me into a community of recovery. The rest is a song of thanksgiving in miles, years, hours, tears and laughter. I was going to put the hat on a statue of Mary at the Grotto in Portland today, but I held back. The phone booth says it all. They are almost obsolete but you can always call for help on one of these new digital devices!!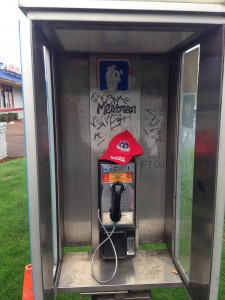 One way to see recovery is through the eyes of your friends and colleagues. On the road there are signposts. In recovery there is community. The Last Door opened my eyes to see the community I had and the community in waiting. Hats off!