The tarmac was rougher, almost macadamized, and jarred consciousness into my waking and 18 hour aching bones.  I was going to cheer a movie line, "Good Morning Vietnam" but it was already evening.  The sun was setting and the evening humidity sustained by 28 degree temperatures.  This was Ho Chi Minh city and on the way into town we were reminded that the Americans were evicted from Saigon in 1975 and that the cold-war ended in 1995.  Vietnam is set to host the summit between Un and Trump. The verbal reminder was appropriate for us white tourists.  Yet on arrival in the hotel we found in room Nespro, Dasani water and CNN.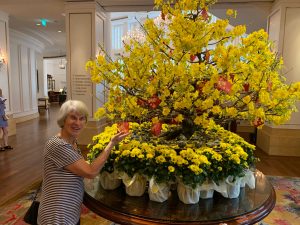 The lunar new year celebrations were punctuated with flowers everywhere.  Margaret was trying to capture a "gold" envelope.  Yes they are red!  The history speaks of good fortune and a prosperous new year.  The pig rules much of 2019. We travelled halfway (almost) around the globe and with a 16 hour clock reset all the comforts and discomforts of home were in our face. Similar to evergreens in a western celebration of Christmas the Vietnamese use chrysanthemums, marigolds, Mao Ga flowers and paperwhites to mark a lunar new year. Flowers and scattered roof-tip air conditioners marked and scarred the vista.  In the pool garden below flowers lined the walkways to the water.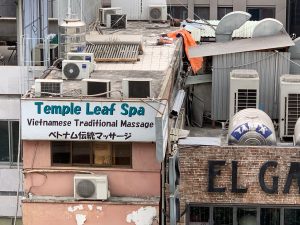 For our second visit to this city we were ready to go deeper, discover, diversify!  Our understanding clearly limited by our experience.  As with all exploration, there will be discovery and attachment to old ideas.