Wandering into Barcelona Gaudi becomes real. He is not only the hermitic architect of Sagrada Familia but also the man about town who left his fingerprints on a culture, on a way of life. The castle labelled as La Pedrera is an apartment become museum. The gift store and the souvenir peddlers availing themselves of every opportunity.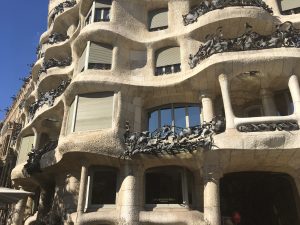 The buildings speak for themselves and along La Rambla the Catalans parade for independence. One can hardly forget that a few weeks ago, along La Rambla, they dodged terror. Today they live with pride. But beneath all that design, all that visual feast are very meticulously crafted scale models. Gaudi was a master model builder and tested his engineering and architectural concepts with scale models.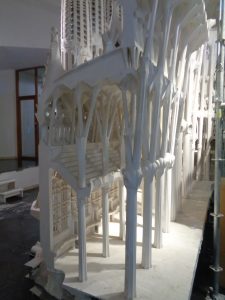 Along the way the buildings touched by the dreaming hand of Gaudi and the team of followers created a visual landscape that invites people to more than visit. The buildings are invitation and inspiration.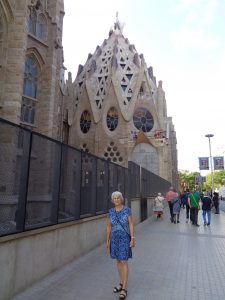 The marks of contemporary art might be in the tags that are left behind, however I would suggest that museum bags and skyline shaping towers might be the tags of Gaudi. It will take a few days to absorb each of the tags Gaudi has left for our devotion. Yes I will take a look inside Sagard Familia. Yes it is a church! A basilica, not a cathedral!