The comforts and discomforts of home are captured in this image.  There was a time in history, our history, that an outhouse and woodshed were common sites.  I captured this image on the way to Keremeos and was reminded of the incredible effort we are putting into remodelling a bathroom back home.  Tiles, shower, paint and all the other details required to augment our comfort station are being updated as we travel.  The juxtaposition of images underscores both privilege and time.
This hybrid pub and BnB may also belong to an era gone by, however the signs and new paint hint at a far more contemporary presence. The vernacular is contemporary.  The sign pseudo-old.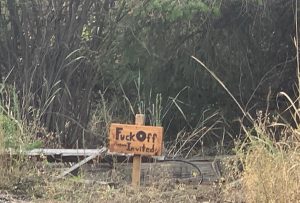 Wandering into Keremeos there was a yard of old trucks at "Dutch" Towing. We don't drive old trucks, except in parades.  In earlier time we used trucks to topple outhouses.  There is a progress in all we have and own that caters to change.  Somehow change is essential — yet we have a difficult time changing our interpersonal attitudes.  We still truck old attitudes toward minorities into the parades of our present.