When a couple of vintage gents gather as hood ornaments on a parade float then you know change is inter generational. Between the glitter and the rainbow colours there is a story.  A history. A herstory. The Volkswagen bus was a symbol of everything hip and rebellious in the late sixties.  I know because I was there!  Most of you weren't!  Some seven years ago Margaret and I took a tour around the continent in a vintage Volkswagon Westphalia.  Aside from the plumbing issues and the shrinking bladders of age we had seven weeks of adventure sharing stories and laughing as we journeyed.  Yes, there were moments of rebellion when we watched episodes of "Breaking Bad" on a iPad swinging from the canvas of the empty upper bunk.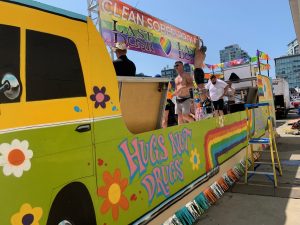 Watching the moon landing on a 14″ black and white TV was fifty years ago!  Flowers everywhere and on everything was fifty years ago. The Woodstock album records the music and only memory can record the mud and colour.  The parading VW is more than nostalgia.  It is a float of reminders.  50 years ago the Stockwell riots in New York opened the doors to gender liberation.  This year the float in the pride parade marks more than time.  This float marks that recovery is possible!
The parade dissolved on the sands of Sunset Beach and the afternoon was devoted to declaring that Recovery was possible.  To prove the point the streets of Davie Village in Vancouver were closed.  The evening was a celebration of Recovery in community without the use of substances.  Unintoxicated has grown from a small off the path event to a MainStage participant in  Pride Celebrations.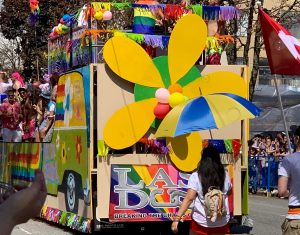 Recovery continues.  As the float drifts by and the propeller of flower power drives Recovery into the streets taking stock, looking back, has a place — however forward is where the energy drives space ships, music and our pride!