The rescue board at the lifeguard station was an early morning reminder of all that needs to be done. All the people that need to be rescued.  It was clearly time for a Naranon meeting or….  Those drowning swimmers!  I paused to recruit help and then carried on with a day of beach combing.  The kind of combing that leads to finding nothing and being happy.  Rescuing no one and being alright.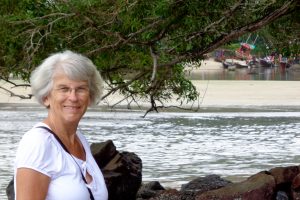 The pose at the end of the easy-to-walk beach was marked with giant rocks  that will take a few millenniums to grind into sand.  Under the shoreline umbrella of green leaves the fishing boats snuggle together waiting for an out tide.  Under the morning clouded sky we walked the beach on an incline plane of sand for 5 kilometres.  Always knowing that a tropical rain could come and an umbrella might be an appropriate rescue.  No blessing of the clouds could produce a parting or departing of the water.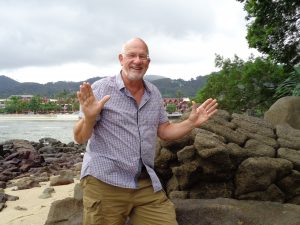 Along the strand a woman is searching for a lost shell or stone or whatever tiny fragment could camouflage in the sand.  The image was a moment of crumb-chasing-recall.  Yet here the pearled shells were a real reward.  Rescuing shells was an avocation for the necklace weaver.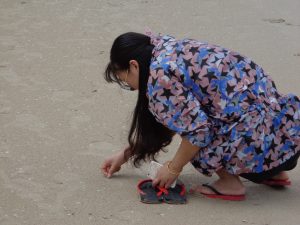 We rolled along the limits of the ocean shore.  Feeling sand and shells and touching the warm water.  We were three unscheduled participants in the life of the beach.  We wandered from shell to temporary shelter.  From pedlars to our new special friends.  From skidoo rentals to parasailing launches.  A whole beach playing into the passing tide.  Sand waiting to be rescued by the next wave.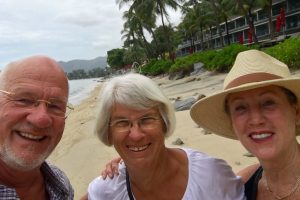 The salt corrosion on the rims of the John Deere 2130 were a reminder of a few tasks back home.  This tractor was being used to rescue beaches from the clutter of tourists.  I was thinking we could obsolete rescue work if we all towed the line.  But then there would be a lot of spiritual literature that would be redundant.  I wonder sometimes if God really likes playing rescue ranger?