The stacking of stones to mark remembrance is not new. Before I delve into these rocky remembrances let us pause as civilization to remember history.  The mask is a visual stack of stones that mark more than the crossing of a river.  As a kid I grew up with the "masked stranger" and the early black and white TV images.  The stories of deliverance in Israelite history marked by stacked stones were crowded out by current events.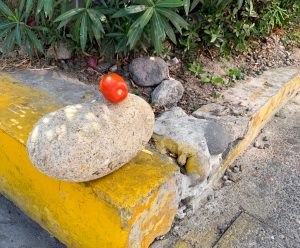 The whimsical placement of a tomato on an emerging stack of stones gathered curb-side focuses our attention on the weakest link.  We know that remembrance is based on foundations of shared history, shared redemption and shared hope.  The tomato has value as tomato.  The tomato will be crushed out of remembrance by stacking stones.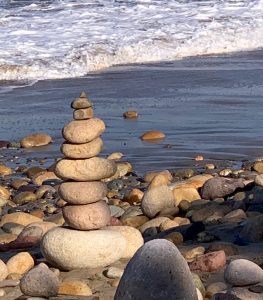 At the tide line the balancing of stones is reminiscent of the Inuit inukshuk and the many historical stacks of remembrance. At the Last Door Keystone retreat there are many stacks of stones placed as boundaries and remembrance.  The stones, the celebrations of Passover and the events of our current history all urge us to see the miracle of redemption as a monumental fact in our story.  As the years parade along stones like tombstones may be the only thing that marks our passing.  Stones may be the foundation of our inter-generational story.