The evening sky is coloured by sunset and the fading mist over the mountain lake.  The colours emerge as a band of more than orange — the band of a painter's handiwork.  The vistas roll across the hills unfurling like a flag, the majesty to follow.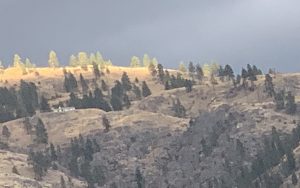 Earlier, the setting sun grazed the pasture and coloured the meadow a golden yellow, leaving the horizon spired with green trees pointing to the darkening sky.  Embedded in the evening sky is the promise of tomorrow.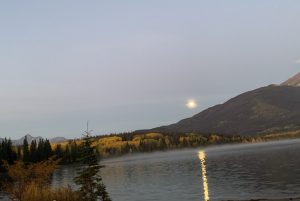 In the early morning the moon sets over Pyramid Lake waiting for sunrise.  The locus reflected in the calm morning waters as we head East from Jasper to Edmonton.  The muscle memory in my legs recalls more than sunrise and sunset — it reflects a grateful life traced in steps around the lakes.  A life lived forward and the forever settling into the promising rhythms of sunrise and sunset.