The table is set.  In this museum that masquerades as palace the table is always ready to entertain. The table is unattended. The problem with most invitations is that someone needs to go first.  Who will sit down with whom? This set table is empty!  Like so many opportunities to change a narrative someone needs to go first.  One would think that in a planet occupied by narcisstic selfie creators someone would leap at the opportunity for real change.
This UN ATV vehicle on the beach in Cascais, Portugal, speaks of peace when there is no peace.  This peacemaking speaks of an ideal of shalom in a world torn apart by war words between Israelis and Palestinians, men and women, pale and dark skinned, rich and poor, sick and healthy, alone and overwhelmed, immigrants and natives — all struggles in  an un-united world.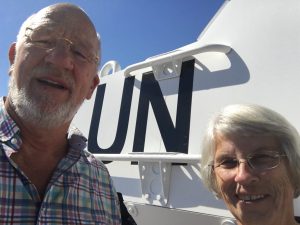 We pause at the wanna-be peace-keeping exhibit and wonder how far off course our world is.  Peace keeping missions are not the same as peace-making-living.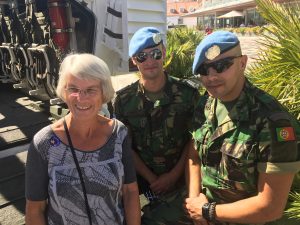 Someone has to cook the meal so we can all sit down.  Miriam Toews in her novel, Women Talking puts it like this," Most of us absolve ourselves of responsibility for change by sentimentalizing our pasts."  We don't want to be prep cook or wash dishes.  Serving, being of service, has to do with selflessness.  Grandiosity and service are different responses and our world is mired with the ego desire to attain both.  Sentimental histories create war-wounds. Tables will remain museum-empty unless we invite our enemies to eat. Enjoy big-bird!