The leading image on this blog captures Amado, a beach that is home to surf schools, surfing venues and international visitors seeking large swells.  With the exception of Nazare where the swells may reach 90 feet (where surfing requires a sea-doo rescue plan and escort) , this is the favoured beach for surfers.  The mustard red sandstone continues along the Atlantic coast and opens rock cliffs long enough to create beaches along the route north.,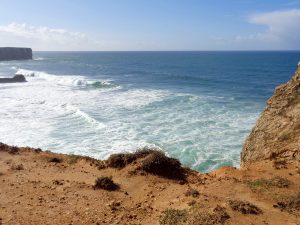 Rock outcropings provide natural breakwaters and gentle bays where swimming and fishing coexist.  Fishermen can be spotted along the cliffs reaching toward the Atlantic for more than today's meal. Sunlight dances on waves when it is not raining.  When the sky pours water the entire coast-line is a grey pallor mess.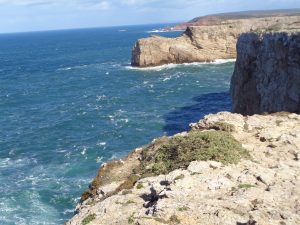 There are moments as we walk along these cliffs, these rock trails, that hug the coast that I was reminded of the west coast trail.  Other moments when the barrenness reminds me of the Nova Scotia wind-swept cliffs.  There is in every image, in every vista a view of the endless washing of waves, the endless erosion of land.  This is an image of creation and re-creation.  An image of rest and restlessness.