The silk woven wall tapestry (3m x 10m) created by Eva Jospin decorates the wall in the restored hall of the popes.  It is hard to imagine that we sat down to dinner in the hall where once upon a time (a few centuries ago) a papal enclave was held to appoint a new pope.  The string quartet reverberated in the limestone blocked hall.  In our minds the stories of her Holiness Pope Joan swirl.  Some versions place her in Avignon, others centuries earlier in Rome.  Maternity exposing her gender.  The institution-embarrassing stories creating additional visual screening for a new pope. The myth, like all legends, may be larger than life but points toward change.
In the corridors one might walk through the past or toward the future.  The locus of the journey is a choice.  In the course of the evening we savoured music and food, setting and company — we were surrounded by history and the contemporary art of silk tapestries.  The first violin parading around tables like a pied-piper guiding each into a promised land — a land we do not know yet.  Tradition has some difficulty keeping pace with progress.  The silk tapestry woven with future strands hangs in the great hall to soften the reverberation of life against the stones.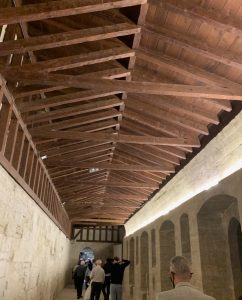 The great hall of the popes is a small part of a much larger complex.  The Papal Palace  in Avignon was conceived in 1252 and the papal curia was moved here in 1309 and it was not till 1377 that it returned to Rome. (The stories of the various power struggles vary the dates)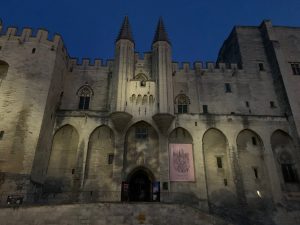 The most interesting story that swirled around France during our sojourn was about its "truly secular" nature post revolution.  Yet the country has more bishops, cathedrals and monasteries than before the revolution— somehow, and the details are blurred, the state pays for maintenance of these "historic" sites.  History and current affairs appear clouded.