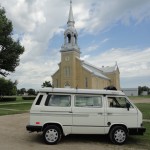 The arrival in Ottawa marks admission to the midway of Canada. Now a trip across Canada is not unique, nor is a trip in a Westphalia, but these three photographs will form the foundation of the marketing brochure when it becomes time to sell it (our children have been filing claims, but who listens to their kids?).
The challenge of the Rockies, the steeple dotted prayerful flatness of the prairies and the towering illusions of parliament summarize diversity even before we head east to Quebec and the Maritimes. The common denominator across the landscape was vastness. An expanse of country populated more sparsely than the hair on my head.
The common thread in the journey was the highway that binds us together in a way that airports don't. I stopped the Westy at hundreds of places but the three that stood out were the ones where the landscape towered over our journey. The dominant presence of the mountains, the parries dotted with silos and steeples and Ottawa dominated by parliament. In each case the peak that towers is more beacon than barrier. The perspective afforded by towering peaks could keep us humble and grateful!