The images of Cinderella Carriages and evenings of Baroque decadence where only punctuation in a visual feast. The early morning encounter with the Hunderwasser social housing project and the public, smiling places, as our guide called washrooms was a throw back in memory to my first purchase of a book by this artist some 30 years ago. The grandiosity of the details of Viennese architecture created a perfect juxtapostion between what could be and what is.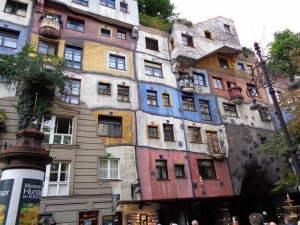 The skyline of Vienna is punctuated with grandeur and between the concert hall where the Vienna Boys Choir sings and the courtyard there is a rdiding school. History has very unusual ways of carrying things forward.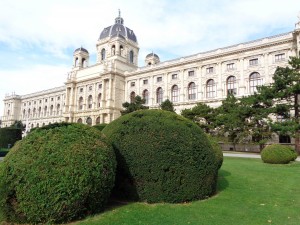 A modern sculpture on the way to Saint Stephans square captures the disconect of cultures.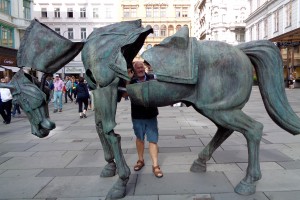 Yet the carriage and the tour of the Liechtenstein palace coupled with a concert of symphony, opera and dance was a reminder that all that history has a place. Somedays it has value and brings joy and on other days it holds dull routine and dead ended lessons.