Sometime (between 4000 and 2000 BCE) in the history of Aomori there is evidence that sedentism set in.  The people started living in clusters of houses, built common meeting places, survived on a balance of hunting and gathering and farming.  We spent some time visiting the world heritage site.  The remnants of graves, soil excavations and buildings spoke to a past that surpassed my understanding of history.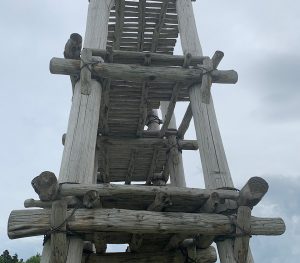 The re-creation of this community marker, crafted from chestnut trees, was based on the six post excavations in the Jamon civilization unearthed at the Sannai Maruyama Archeological Site.  This not only confirms activity in the period, but also confirms with the remnants of graves, excavations, common halls and clearing sites that the Jamon civilization was both sophisticated and creative.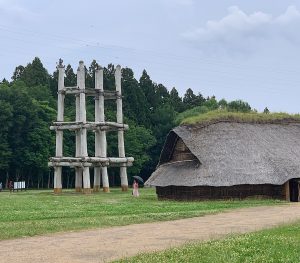 A few miles down the road, in the shadow of the largest seated brass Buddha in Japan, three whimsical creatures shower in the shadow of a waterfall.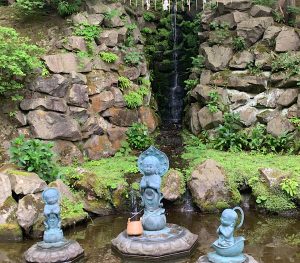 Towering over the temple site a five level (earth, wind, air, fire and sky) pagoda topped by a most ingenious core column that sways free (shinbashira) in times of earth shaking.  There is a core belief about steadfastness shared in most spiritual traditions.  This visual core stands out as both pragmatic and metaphorical — a symbol.  A spirited root.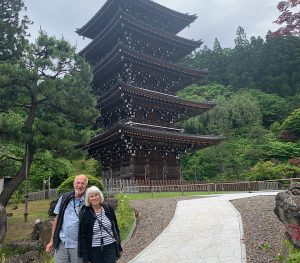 Returning to the Aomori museum of lighted parade floats the confluence of history, evil, salvation and civilization is celebrated in parades of dancers marching around floats that are built annually to celebrate light, accomplishment, enlightenment and fun.  Maybe this is more than an apple a day in a precinct known for growing the best apple crops!  Maybe evil is just a bite away.