Under the darkening rain cloud a setting sun underscores the day. The colours of the water tower and the sky enfold into a glorious day-is-done. On the beach the young and agile play volley-ball at sunset. The miles of sand broken by nets, nested tables and nothing.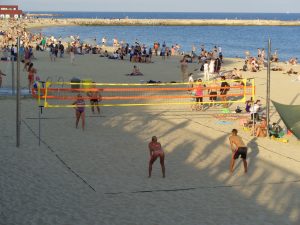 Children could play all day in the cone slide… But like every slide I've seen the children prefer climbing up the slide rather than up the ladder, I am not sure whether this is a comment on education, genetics or playground designers.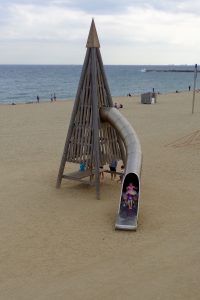 The evening light that glows on the towers at the mid-point of the beach. Sunset on Olympic villages and monuments. Yet strolling along the stretch of levelled-stone-plaza (skateboard and roller blade friendly)it is relaxing walking among cyclists, joggers, electric chariots and skooters.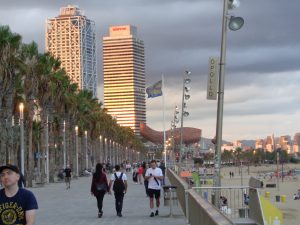 Every want-to-be beach bum working out on the beach bars to get beach buff? Today the gym, suspended between two stone barriers, is the playground of playboys and playgirls. Attention for the body dysmorphic.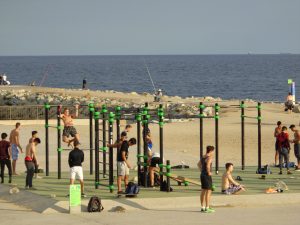 And the rest of us bums… Line up with golden fish to eat. Fish that speaks of golden batter and fishermans tales. Larger than life, but not too large for a story. Maybe day's end right where they start, under the sun, on slides, showing off and unending amazement at the paint-brush in the sky.