In the images gathered and created around the Vatican Museums there is a subtle irreverence. It is mine. It has roots in my early childhood reformed education. It gathers perspective from those early lessons. My mother at 94 years of age will readily debate anyone on the nature of grace and attonement… But none of that interests you. The title image of this blog entry has me taking a shift for Papa Francesco as he obviously was not at his post. No one in the crowd was drawn to my open arms. This city-state is a museum of much of what undergirds western civilization. The good. The bad. The ugly. The free and the slave. Dan Brown loved the intrique of this place, these libraries, these undergrounds. We cried, laughed and marvelled!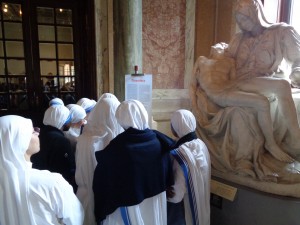 The Pieta again. This time mother and child are seen in the third copy of Michalangelos sculpture are surrounded by an order of visiting sisters. The juxtaposition is not lost. The images carried loss. What was striking in much of the ecclesiatical art was the number of beheaded images. Given that the scripture has Herod on one occaision asking for the head of John the Baptist it seems disproportianate.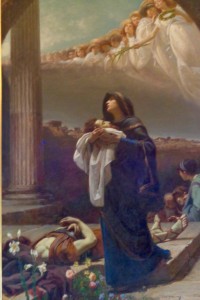 The classic representation of the head held on platter leads to one interpretation. The heads below by Bernini drive our immagination into both physical and metaphysical considerations. No matter how you see it, losing your head is not a good idea, no matter how great the art.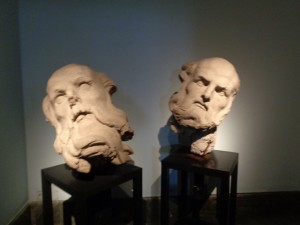 Now back to an early love — ceramics. The photograph below of a three dimensional ceramic creation by Alex Cavaliere was produced in 1950. In the gallery with the Kandinski, the Dali, the Klee and the Chagall it was at home. These works propelled the collection into the twentieth century. The church comes face to face with the world in the same ways that the artists of earlier centuries migrated the world into the church.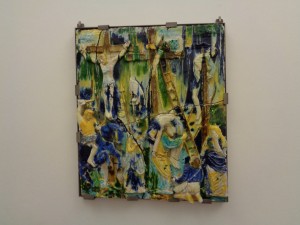 One striking crucifix that we first saw a version of in Florence was the crucifix by Chagall. This work complete with Hebrew prayer shawl as loin cloth speaks to a broadening understanding of the shared history of scripture rooted beliefs. One observer noted it was one of Papa Francesca's favorite works because it carried a message of inclusion. My first encounter with the works of Chagall was in 1982 in a French seniors complex in Vence. Chagall had provided the stained glass windows to the home because he genuinely believed that the elderly deserved the great visual feasts. I sure hope someone holds on to that idea as our generation ages.