The story telling about churches in a country that tried abolish them or turn them into museums is a bit baffling. The attempts to own the churches that were turned into museums with shared stories became almost mythical. The only traditional Russian Orthodox Church in St Petersburg was built on the site where the Tsar was shredded to death with a grenade. Hence the name. Church on Spilled Blood.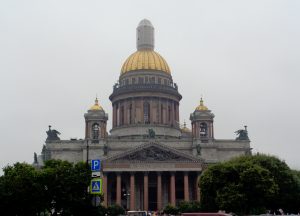 The church of St Issacs Cathedral is the largest Rusian Orthodox cathedral in the city and is seeking resolution between remaining as a funded museum or reverting to an active church. The imitation of the Roman Domes and the attention to columned arcades was supportive of St Petersburg seeking to be the political and religious capitol of Russia. The current church is the fourth iteration built on the site. The first two suffered failed foundations, the third failed financing and the current church, possibly the most significant of the domed cathedrals in the world was erected to ascertain St petersburg's Capitol status. It can be said that both futures could fail, however, given time and visitors the truth may not have been told.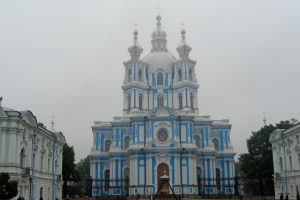 This baroque cathedral in the courtyard of a Smolny Convent of the Resurection is most commonly known as Smolny Cathedral. This convent was originally built for Elizabeth the daughter of Peter the Great, however she chose to abandon the monastic life to ascend to the Russian throne in a coup that saw Ivan the sixth overthrown. Elizabeth continued her financial support of the convent and the church.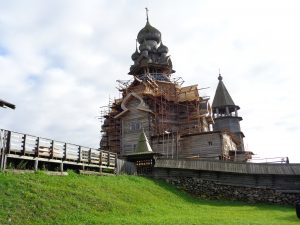 Restoration of this all wood Russian Orthodox Church on Kizhi island is more than a challenge. This is a commitment to heritage preservation. The deteriorating logs and shingles were being replaced one by one as required and an elaborate scaffold was used to elevate the five copulas so the restoration work of the walls could be completed.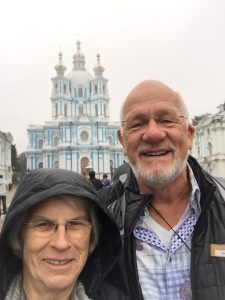 In each of these images Margaret and I are standing in the shadows of something much greater than we were. We came to see that the preservation of these churches as state museums also preserved a fragile Russian Orthodox Church. As someone said, "This much love and majesty comes from deep within the believing soul."