Turning vision into practice takes more than looking at flowers.  It will, in the words of Henri Nouwen, capture the revolutionaries.  Critical prophets are people who attract others by their inner power.  Those who meet them are fascinated by them and want to know more about them.  All who come into contact with them get the … Impression that they derive strength from a hidden source…  a freedom that flows… Giving them an independence that is neither haughty nor aloof, but which enables them to stand above immediate needs…  Nouwen's words create a pause in which I can value my friend, David.
Sometimes, as in Nouwen's words, prophets are moved by what happens around them.  Walking the streets of Peurto Vallarta, some 4000 km from home, these images capture what is going on around us in real time, capturing vista and vision. What prophets have moved you?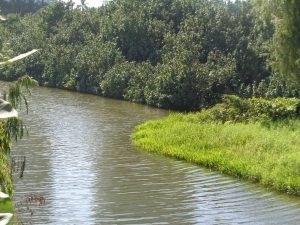 There in the flowing waters, a vision of a stream rushing from mountain tops to the ocean.  The vision is one of a serenity of acceptance.  Prophetic contemplation. How does one blend the streams of sorrow with those of hope?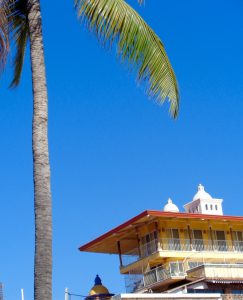 In the shadow of the Palm branches a greeting that moves beyond hello.  A greeting that says you will never be alone.  Palm Sunday is coming. A parade.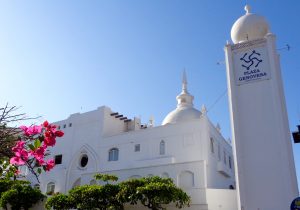 There the flowers make the white-washed buildings dance against the blue horizon.  No matter how you see the influences of flower power in your life/lives, each bloom, each life, contains the seeds for the next generation, the next revitalizing  of the values, colours and roots of what we have come to believe.  Who were the prophets in your life?  The visionaries that gave you hope?  Are they monuments or are they building blocks?