Fresh flowers tend to catch my eye.  This friendly hand wrapped selection was offered for sale by a florist in the Ginza.  The florist was not on the Main Street.  Rent? There is something loving and lovely about fresh flowers. They will decay and there will always be fresh flowers.  Ask the bees.  Walking into an invitation, planning a celebration, sharing new found happiness, remembrance — all call for arms stretched into an embrace with nature. All this in stark contrast to the neighborhood of glitz and glamour.
In the Ginza one could be in New York or Paris or London.  In one department store the best from the tables of the world is offered for sale with no where to sit and savour.  This is a bragging neighborhood where eating and tasting are not connected to food. Here bragging rights are acquired with Yen.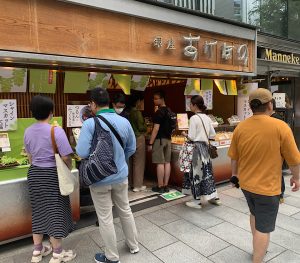 In the Ginza there is more than fashion and international merchandise staging — there are small store fronts where people queue for a bite, a drink, a hello.  There is not a vending machine in sight on the main street.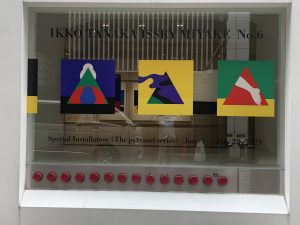 Between the fashion and food there are spaces of visual delight.  There in the window image, Ikko Tanaka in a no photo exhibit.  Behind all the glitter there is history.  There are a few remaining original buildings that have survived the invasion of the international brands.  Yet, as the title image hints, there are flowers and memories between the towers.