These youth carry a figure to the parade route in preparation for the evening ceremonies. Each statue is carried on a bamboo frame and paraded by human might. One might wonder what evil these young persons envision that the mother image in their lives has caused or prevented.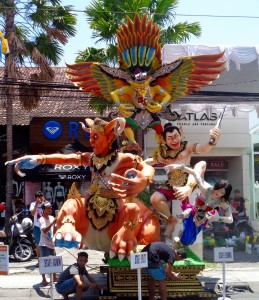 The evening before Nyepi the various temple groups parade their statues carrying evil works through the local community streets. The tradition has it that these statues were paraded around the streets gathering all of the year's evil and delivering evil along with the name-sake statue to the waterfront for ceremonial burning. Time and eco-sensitivity has eliminated the burning of the large figures as the styrofoam content tends be toxic when burned, but ceremonial burning of evil continues in symbolic ways.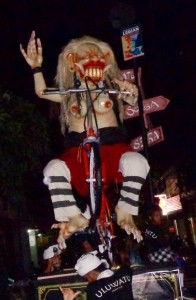 The long nailed fingers that seduce members of the community to participate in evil are amplified in larger than life figures as reminder of the over powering influence of evil.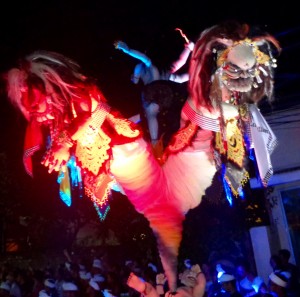 The two-headed or dualistic figures reflect the Hindu deities of multiple figures. The many arms, legs, heads and the powerful base figures combine to create an image of a God that reaches beyond understanding. The rituals and blessings, as well as the water sprinkling and offerings, are shared experiences in many religious traditions. In Bali they remain a communal set of values. Secularized yet sacred. A balanced Yoga pose that highlights the impossibility and the dream. Burning the evil of self-love at the cleansing waters of the ocean may for a day or a year keep a people in the hands of grace.