The outlined figures painted on columns on the bridge that crosses the the Rio Cuale (Cuale River) dance with enthusiasm at your presence.  The river pours into the Bahia de Banderas that is the stage for a water wonderland known as Puerto Vallarta.  The tides have washed over rocks and sand creating beaches that are playground, stage and memory.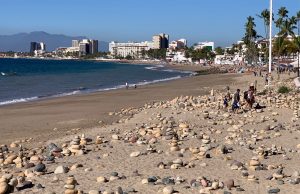 The stone monuments are not nemonic devices but rather challenges of patience as families wait for the tide to turn so body surfing, swimming, kite sailing and meditation can blend into the bay.  In the background condo towers rise as tourist attractions. The jungle is invisible.  The beaches are empty, the condos full.  There is a babelesque worship of proximity to each other and the sun.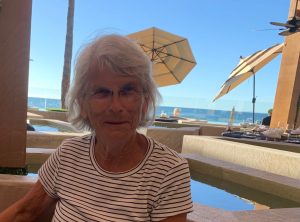 We sat at a table surrounded by water.  The sun was setting in the bay as the salad was served.  We savoured food at the waterfront. There were 12 hours of sunshine in every day and living under the sun was comfort for aging aching joints.  Pausing to swim, walk and savour words as we talk and read, fills daylight and twilight.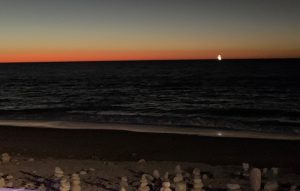 As the day unwinds we are reminded of the glorious surroundings, the spot on the horizon a reminder that this is a tourist resort, an escape and a charging station.  The juxtaposition leaves us torn between the stacked stones of condominiums and the forever day and night created for delight.  The tension may be the gift of being alive.