The chorus of the musical tune rang in my ears as Pu Pu tried explain the dual and triple meanings of the name.  Mandalay is that Kipling poem that became the text for the popular song. Mandalay was at once the place at the junction of the Asian trade routes:  converging roads from China, India, Japan and the British traders, and it was in the Bhudhist scripts to be read as the "centre of the universe" or the state of having arrived. The Wizard of Oz has the cowardly lion quote the Kipling lines, "What makes the dawn come up like thunder?"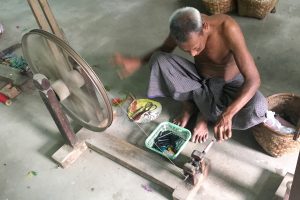 All this high culture and Mandalay is truly a working person's town.  The artisan is spinning silk yarn for the weavers. The washerwoman has laid her day's work in the sun to dry.  The delivery driver rides by with a burdening box. The goldsmith applies a layer of hammered gold to the teak statue.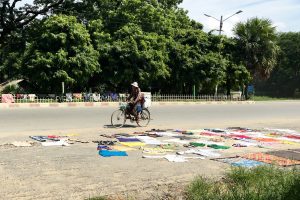 Along the road there are sights and sounds, but the most impressive and consistent are the detail work of each of the temples and monasteries.  Here in the "Teak Monastary"  where all the gilding has been weathered away, there is a moment for a playful cuckoo clock appearance.  A work on progress as we find that Mandalay is the centre of the universe.  The still point of the turning world as T S Eliot puts it.  A road for a journey!