The stained glass filters the light as it breaks across the chancel in the Fraumunster cathedral in Zurich. These are not ordinary stained glass windows, these are windows earmarked by Chagall design similar to the chapel in the seniors complex in Vence . These are signs that celebrate the passage of light into our presence. Chagall discovered stained-glass painting at age 70. Picasso noted that Chagall "must have an angel in his head."  The set of five windows (the Prophets, Jacob, Christ, Zion and the Commandments) were inaugurated in 1970 when the artist was 83.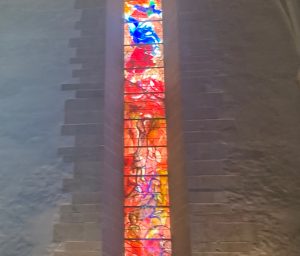 It would be easy to look at these windows as a cultural landmark, however they are more than that.  They are a pictorial Symphony of biblical images.  The windows triggered the creation (eight years later when Chagall was 90) of another mark of biblical history.  The rose window depicts the cycles of Genesis in a clockwise sweep. In the middle is the most timeless of signs — the Noahs Ark metaphor for the salvation of creation.  The rose window is a timeless sphere hovering over the pipes that breath the music of the spheres.  The image a promise of light.  Morning and night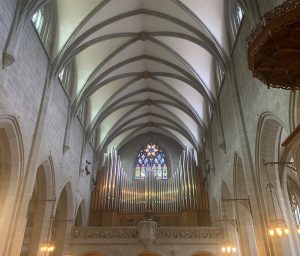 A few steps along the trodden cobblestone path, past a wedding, across a river, under an umbrella and with eyes wide open — there it was: a sign!  This was not a spire inspired event.  This was a sign of our times.  Will we celebrate this sign of our times a hundred years from now?