Someone said we should take a balloon ride over the valley in Cappadocia. We did. Neither story, nor picture can capture the inspired juxtapostion of seventy plus balloons and the lunar terraun of the valley below. These were almighty footprints of presence. The kind that could change a life, or at least, slow it down! The valley a streak of rose and green and white rock formations. The balloons as multicoloured as the marketing teams could afford. The fairy chimneys created by variable errosion rates in the lava fields.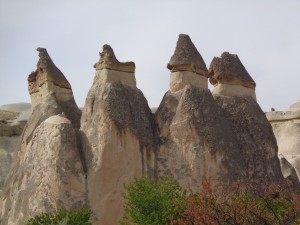 The colours over the valley.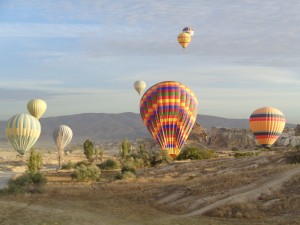 The morning sky punctuated with hot air balloons.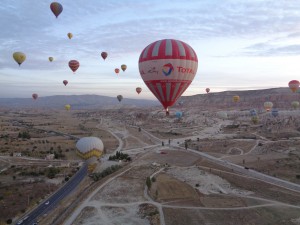 Safely in a basket at 5500 meteres above sea-level, that's only 1500 meteres above the valley below.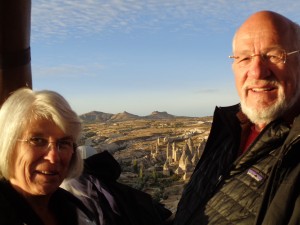 The vistas as the sun breaks across the sky.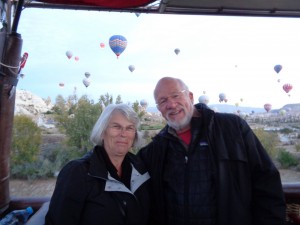 Yes we did stop for food and drink. I know that any yoga instructor could explain why eating like this is good, however I am convinced that the invention of chairs is a great gift. Listening to our host explain the spices and flavours of Turkey it became very apparent that this culture, this civilization, these people had survived. There is no balloons' eye view that will really understand. There was a moment at a 12 step meeting when the couple who were translating for me laughed about the political protest passing below the window. It will be safe in a few minutes. The waiting a few minutes, years, centuries, civilizations is almighty work. I will just savour today!