Along the beachless sections of Bali coastline a series of temples operate as "light"houses.  These are not your traditional navigational markers but landmarks on a spiritual journey.  Travis in full ginger regalia frames the Pura Tanahlot Lot (the sacred sea temple). Around the island a chain of Hindu temples that have incorporated Budhist visual symbols and practices  mark the waterfront as sacred.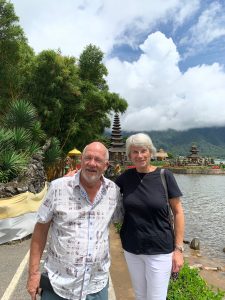 Margaret and I paused at a lakeside water temple called the Pura Ulun at lake Bratan.  The temple a few short miles from the world heritage nominated rice fields at Tegalang appears to float in the mists of the lake.  Yes this is an island of beaches but at sunrise and sunset each day is capped with the glow of the spiritual.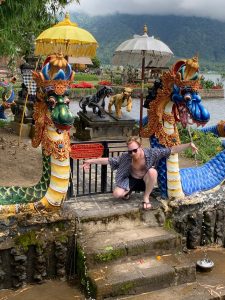 Behind the doors a sacred area respected by all.  The "Rhyme of the Ancient Mariner" may have had it right — losing sight of land can be a bit like losing spiritual connection.  The boards and temples don't shrink…. They just become less important.  Somehow the Balinese people have stemmed the tide of plastic and litter in the face of an encroaching tourism that has overwhelmed the small island.