Somewhere between Kermit and a Raspberry-Maple-Twist Margaret has suspended belief in her road buddies.  It goes further, she doesn't even want to walk with them.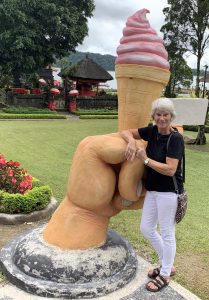 I  tried kissing a frog!  Not sure what that even says about her travelling companions.I get the ice-cream, but the frog?
In the gardens the princess walks between the lines, Travis has not found them and Ron-John falters with food and chaffing footwear. Yet the whole adventure could be carried on the back of a genetically imperfect whale.  In this playground at Bratan Lake even big kids climb on board.