The textile and fashion shows in Paris and the all the people and occasions I have visited here culminate to make this walk through the memory meandering of coffee bars and bistros a cat walk. This is a city of visual and savoury delights. From the balcony of the Pompidou Centre Margaret surveys the city. The graphic wall art. The tired and retired buildings. The monuments and momentos. Everything is at your feet!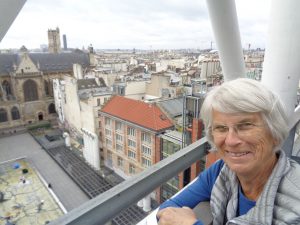 Across from the Museum of Textile Art is a statue, refinished gold, a statue of Joan of Arc. That in itself might not be significant, but in a city of statues and grand approaches this one is buried on a traffic island. Hard to get a good selfie!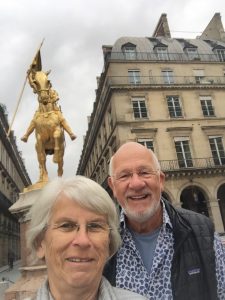 Down the street — sweets. The only fashionable thing that really matters, eh! The art of the patisserie has been maintained and elevated from just dessert to the art of the pastry chef. The selection and quality elevated by competition and the fashionable sweet tooth.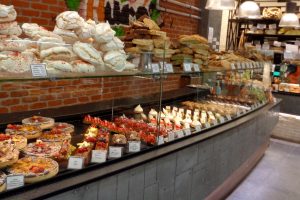 A close-up and then the similarity between the textile and tactile arts comes into focus. The layers of the mille feuille are distinct with appropriate attention to the subtle flavour of the layered butter and the carmalized separation of the fresh vanilla custard from the pastry.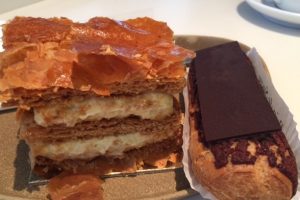 The attention to detail is genuinely Parisienne. Whether fashion or food, this might be a great visit. If you have a weakness for both you might consider living here.