The movie set has been overrun with tourists. We lined up with them. Took a train from Brussels this morning hoping not to pierce the rain clouds. We failed! It rained. That drizzling rain that could be Vancouver. The row housing peaking above the restaurant awnings is the skyline that made this city a movie set.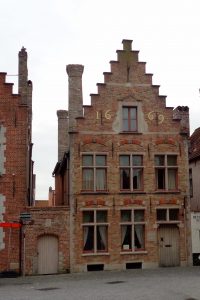 Buildings dated as far back as 1669 seem to have survived reformation, war and time. The truth is restoration. What Brugge has accomplished is a careful focus on restoration and heritage preservation.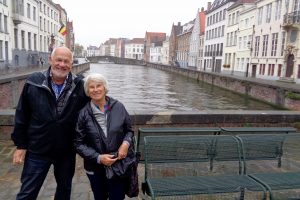 Beyond the historical statues of Jan VanEyck the centre canal starts. We are briefly huddled without umbrellas in a steady rain while some great visiting Italian couple pause to get an improved picture of us that captures the canal.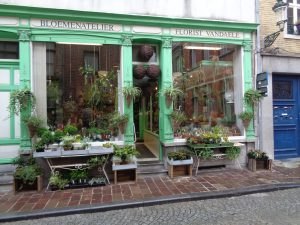 The green framed windows and the essentially all green arrangements are a current trend in floral arrangement to less colour and more natural foliage. The cactii may be out of place but in a warm home they too will survive. Green may be the new florals.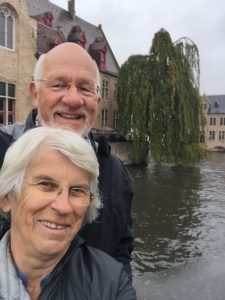 Along the canal we gathered again to catch a glimpse of a willow tree weeping with the rains into the canal. The waterways an essential routing for rains and tourist tours. This is a preserved town with historical beauty that the Burghers have worked hard to preserve.
Across the square, the minuicipal bell-tower. The chimes rang a version of Oh Danny Boy and the gathered visitors marvelled at the bell-ringer skill. This town is an adult Disneyland that needs a very large umbrella to enjoy! Yet, like all childhood nostalgia it lacks a looking forward agenda. What will their children do? Work in one more chocolate shop? Like all nostalgia there is a superficial beauty but underlying the veneer the bells have a hollow ring.