There, a sentry of scarecrows warding off whatever is unwelcome. A fence-mounted exhibit in San Elizario was the first introduction to a spirited journey. The three original "missions" or churches are some of the oldest in the USA and these were well preserved and still used in the community for worship and meeting.
The outdoor shrine celebrating Mary and the gifts of her motherhood are available day and night to the faithful. This is a place of prayer and a place of brokenness. An altar and a confessional. In someways a cross between the ordinary and the sacredness. The kneeling bench, reserved in many traditions for weddings and inaugurations is available to all in need of a moment with their God or themselves. This is shrine and landmark. A preservation for the spirit.
The goring horns point back to cattle drives and the now demythologized running of the bulls. The statue, cast and mounted speaks to the shared drive between man and animal. A cattle industry struggling against the elements. Robert Warshow had it right, the American Frontier lives in every small town.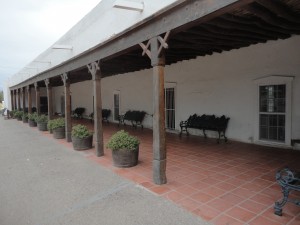 The frontier perma-awnings shade the sidewalk all the time looking more like a prayer walk in a cloister than the gateway to the local jail. Billy the Kidd was locked up here. We looked at the cell-block. I thought of many friday nights back home and the walk through the wallways of our local chambers of incarceration. A walking meditation or a moment at a kneeling bench or even that personal wrestling with the goring angel might help us reconnect with the colourful spirit that characterizes our time and all time.