In an experience offered by theatre Lab in Tokyo we were moved through a historical visual zoo that featured a variety of extinct dinosaurs in a synthesized environment.  The exhibitor provided us with a "new generation" Galaxy phones that we could point at the creatures in the visual zoo and take aim and capture them or spread a net and study them.  We had previously seen parts of this technology used for large scale artistic presentations of Van Gogh etc.  The absolutely new to us part was the ability to point the phone at moving objects in the diorama and capture.  The title image is of a couple of relics captured in the landscape.  This was high tech Tokyo.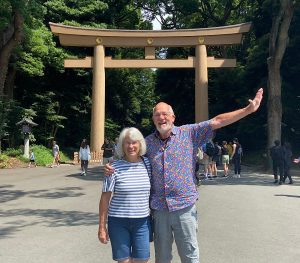 One of the oldest planned forests at Asakusa in Tokyo surrounds the Temple.  We paused at the main gate to wave a blessing and then turned and bowed in traditional respect as we entered the sacred space.  The main gate is the first thing you see when you approach the Senso-ji temple. The temple dates back to a sect that founded it in 645 ACE.  There is a serenity in the court yard and a signed admonishment to keep silent and refrain from taking pictures.  Evidently history is to be experienced.  To be lived. The novitiates approach the temple to experience history and enfold the experience of the dinosaurs into their practice.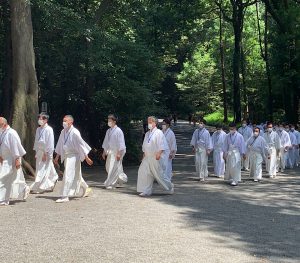 The contrast of the serenity of the temple with the main shopping street in Harajuku — Takeshita Street is akin to contrasting rice in alms bowls to dessert crepes.  Yes Takeshita street features the future of culture, the undercurrent, the rebellion and the promise.  The colours, frills, elevated shoes, lace and the collective norms point toward an emerging group of cultural novitiates who openly rebel against relics with respect.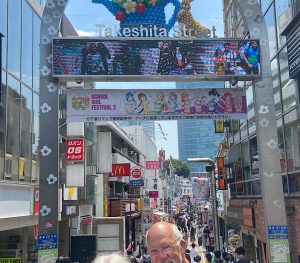 Past is prologue!  This Kabuki theatre near the Ginza brings the past to the lights of the stage.  Kabuki theatre was a traditional form of Japanese theatre wherein males played all the dramatic roles. When the script called for a female role a dramatic actor performed the role.  The advent of parental paranoia might learn from the Kabuki theatre that pride in gender roles whether staged or real will not create dinosaurs but rather relics with wisdom. Between the priests, adolescents, actors, pride celebrants and the emerging adaptation of technology a new awareness emerged: Dinosaurs have morphed into relics!