The seasons come in sequence on their own time.  The sprouting moss looks spring green and the graying green like winter.  The split-rail fence guards the gardens and in never ending cycles of decay and new birth stands with the twists of time.  Natured into the curves of the hillside.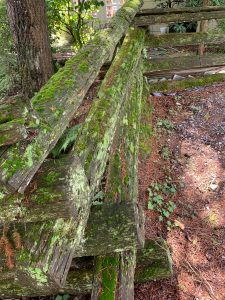 The Maple leaves turn from green to yellow to red.  A touch of Jack Frost that foreshadows winter.  The glorious colours are not on a Banksy palette but like graffiti they draw our eyes to the landscape. If we could unplug just long enough to skip one charging cycle, listen to one woodpecker, hear the wind slap branches at sunset and make someone a loving meal then we too can be restored.
The Llama posed on the hillside with an extreme overbite intact, waits for spring and the Sequoia trees on the hillside to grow more than memories.  Keystone is celebration and remembrance, history and future, work and play, family and friends!  Keystone is for all seasons.