The notice was clear!  The sign over the sink in the airport in Phuket pointed toward a much larger reality.  Having grown up in a culture where foot washing was a symbol of mutual service.  Taking the time to wash the disciples' feet before eating, Jesus modelled being of service with action.  He bridged roles!  The action of the King of Thailand passing and the subsequent period of mourning declared by the state were more than a national foot washing.  This was a nation thrown into the genuine mourning for a King who taught people to love one another through 14 military coups. The nation was called to wear black and white as a symbol of respect and love.  There was weeping.  There was an absence of colour in the often colour vibrant street market.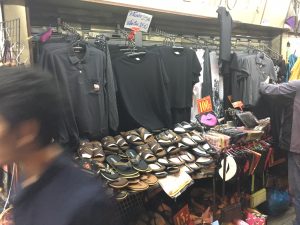 The black shirt inventory was evidenced everywhere and merchants who attempted to price gouge clients were prosecuted immediately.  The other visible symbols of memory were simple hearts set with candles on beaches.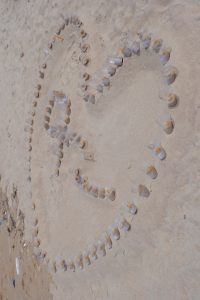 Black suited students organize Thai letters of praise in a memorial photo in the plaza between the Siam and Paragon Centres.  The presence of these students marks a cross-generational memorial.  Black and white bunting draped every public building and the somber respect of a nation was worn with black ribbons banded on the sleeves of employees required to wear uniforms for "economic" reasons.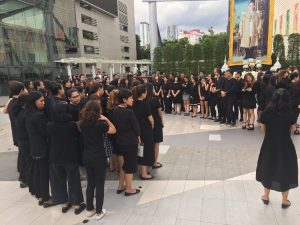 A Kingdom come!  When wandering around Thailand what becomes evident at many sites is the blend of economic progress with the corollary education and social standing as a mark of development.  What remains below the surface is a struggling difficulty suffered by many disenfranchised citizens.  Yet, in the memorials and memorial speeches what clearly becomes evident is the love a people have for a King who taught them to grow crops for food, develop industries to compete on a world scale, and nurture the governance of democratic ideals in the face of military power struggles.
I was in Thailand in 1983 as a guest of the government with an aim to exporting food to Canada.  We found minimal selection.  Canned tuna, rice, baby corn.  Limited.  Today one can find automotive parts and whole cars, electronics and household appliances, chemicals, and medications.  The list could go on, however the important awareness is that this country inspired by the love of a King for his people has been motivated beyond individualism to a modest progress.  Nothing is perfect and there are corporate pirates, yet this people loved their King, loved his leadership and grew under his vision of hope.  He washed their feet with a touch of progress and now they mourn his passing.