Much of our reflection as people has to do in some sense with the image makers in our lives.  The who, of who we are as image bearers.  The great difficulty with this fleeting rootedness is the so often the "fake" nature of our icons.  The image of the man communicating with the statue of San Pancho (also the common local name for San Francisco in Mexico) captures the place of icons in worship.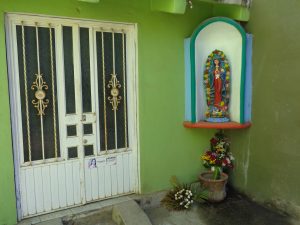 The crèche located at the doorway of a house, or along the highway, or in a business dedicates the place to the sacred memory of the role of spiritual practice in the lives of the adherent residents.  Yet, as in the image of the ceramic chilli peppers, there is something about icons, images and idols that is seductiuve.  The colours are vivid, the referents are real and the juxtaposition with living is detached.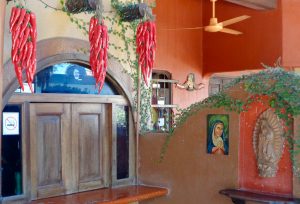 The horse and rider next to the quad are a great example of that hollow juxtaposition.  There is a dislocation of metaphor brought about by the war between foreground and background.  The pictures are great photo-ops for visitors!  Their connection to reality minimal.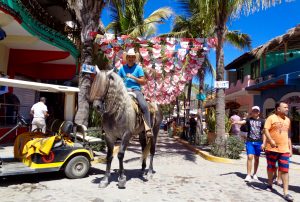 Down the wall-way between buildings the prickly image of succulents coupled with laundry and peeling paintings may be a better image… A better bearer of truth.  To be an image bearer requires an understanding of where we have been and where we are going. We understand diaper rash!