That boy riding that ox in that farm caught my digital eye.  Those girls in that cart behind that tractor in front of that mound of tires rounded out the scene.  The boy tending the prized family animals.  the girls getting set for market.  Families drawn together for works of necessity.  These are not good deeds, these are survival skills.   This is about a journey.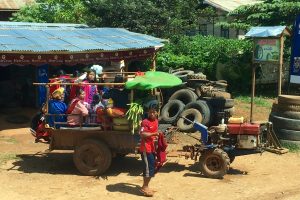 In the trough below the remnants of the cattle meal linger in the trough.  Peeking through the window the image on the screen.  Feeding time can be a dull routine, however the image in the window is even more deadly. The road to a renewed world is filled with images of the old world.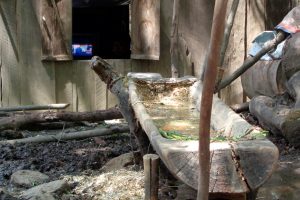 In the upper room at the Memory Cafe the tourist signage proclaims a moment in history.  A memory of an era gone by.  This room, these meals like any last supper, were always an invitation to go further, get involved, make history with a liberation from slavery.  An invitation for everyone to celebrate the feast of a Kingdom becoming free.

There that boy, that girl each proudly wearing the memories of their place in time. Each participating in sharing the beauty, the value, the devotion of history in a world made new by change.  Those smiles are about more than freedom, they are about a freedom to be of service to the family and the community with pageants of memory.  Everything old becoming new again. A road that leads with hope to the future.