On the campus of the University of Alberta there is an organic garden operated by volunteers — members of the Edmonton Organic Gardeners Club.  Each member seeding, planting, weeding and gleaning for their own health.  In the barns there is a collection of seed drills and gardening tools lovingly restored for memory.  In the rich prairie loam a verdant Fall spinach unfolds an iron richness.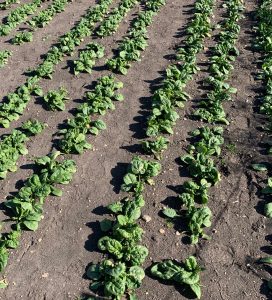 The hoop-house grows tomatoes and peppers without the invasive pests so prevalent in coastal gardens.  The paths between beds of plants are an undisturbed 30-50cm (yes, Margaret said I should make wider paths!) and the spacing between plants was more generous so that multch and water could reach the roots.  On the campus, sandwiched between food science and agriculture — Dyle masterfully swings the green baton of experience.
The years of field experience and the access to research and science have created solutions that will benefit growers in Alberta and even us spies from Keystone.