The grand staircase at the Hermitage speaks to an era gone by. It also speaks to a class distinction that contributed to much of the economic divide in pre-revoloution Russia. The fear of leaving St Petersburg so occupied Catharine that she created the Hermitage with replicas and cultural monuments to all the great art of the world. The Hermitage was the world come to her as she was afraid to go to the world. Her fear was losing power.
The Goya painting is but one sampling of a collection of art that reaches beyond present understanding into a world of wonder. Those eyes staring back at you would even make the Mona Lisa blush.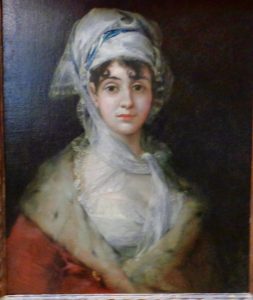 From the great sculptor, Michelangelo, an unfinished yet finely detailed figure. Abandoned mid-creation by some whim, comment or new political reality.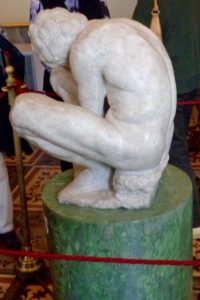 My photograph of the Rembrandt painting of the Prodigal Son was photo-bombed by some other camera. Yet the painting along with the other thousands is worthy of mention as it not only captures restoration, but also because the political commentary of Rembrandt's portraits drove his lucrative clientele away.
Leaving the Hermitage by the servants staircase we pause to marvel at the construction of solid marble treads that still don't creak, mosaics of such fine-detail that they look like photographs, a collection of art-works that is unrivalled anywhere in the world. We were blessed.