In a theatre designed for vaudeville and built between 1900 and 1932 with ten years off for revolutionary behaviour — the size of the scrims, the curtains, the screen, the secessionist detailing on railings and columns — all culminate in a truly Grand Palace!  The Palace of Bella's Artes in Mexico City.  A visual and experiential stage for sharing the traditional folklore of Mexico.  The dances, music and theatre combined to present the highlights of traditional and transitional Mexican culture.
From the dancers to the masks to the musicians the integration of the performance was theatre appropriate.  There were hints of vaudeville, there were musical offerings at world class levels.  Consider the duelling harps and the traditional breaks of silver trumpets.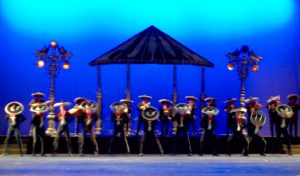 Looking toward the heavens, yes the ceiling seemed that far away, one could see a crafted ceiling element that incorporated the best of secessionist design with the colours of Mexico.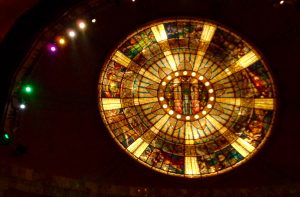 The next morning Margaret and I paused for a moment to capture the stately theatre.  I was by arrogance inclined to descry cultural make overs. I was wrong.  The night in the theatre was a spectacle of dance, music, history and comraderie. The gentleman next to me said that after 14 years of travel from Lima to Mexico City this was the first time he stopped to catch a glimpse of his own history.  He was impressed.  Emotionally overwhelmed.  I was once again stretched to learn something new.