The split wall of the unfinished temple, a cursed presence created by a King seeking vain glory.. A stack of bricks torn apart by two earthquakes.  The guardian lions rolled into the grass fields like sage brush.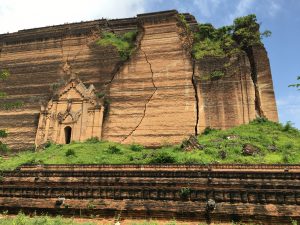 This temple was to be an old age home for the King.  A monument to his presence and prowess.  A rolling killer from the bowels of the earth put a humbling twist on those ideas.  The earth quake and the shaking tremors of age and decay are at rest in the Buddhist home for the aged.  We joked, about room reservations and being able to ignore minor tremors in an earthquake.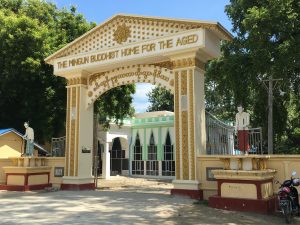 There is a rebellious sense of experience exhibited in many small ways.  A great example was the innovation demonstrated by the two sailors holding the bamboo pole as a handrail along the gang plank.  There isn't a regulation in North America that would consider this practical and common sense solution acceptable.  The sad truth is that we are loosing our creaturely ingenuity to dull routine and regulation.  There was not a tremor experienced by anyone who was led aboard by the bamboo rail.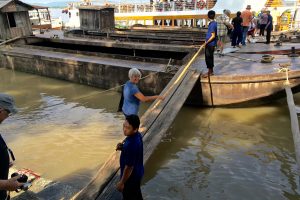 When the earthquake tore the supports away from this 90 ton bell it was simply housed in its own shelter.  We took a moment to share three solid hammering so with the neighbourhood.  I was grateful when the tremors in my ears stopped and the fear of a quaking earth breaker went away with the blessing of the Monk.