The post office in Ho Chi Minh City was claimed to be designed by Gustave Eiffel (Yes of tower fame) and was under construction between 1886 aand 1891.  Saigon desired the elements of gothic renaissance and French colonial design.  The truth is the building was actually designed by French architect Alfred Foulhoux.  (Foulhoux was appointed the chief architect of Saigon) The post office still functions as post office to this day and the interior engineering and floors clearly point to a French influence.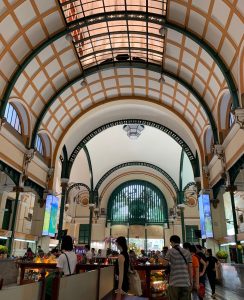 Across the traffic circle the Notre Dame Cathedral of Saigon built from French bricks and mortar and currently being restored is a solid replica of the Notre Dame in Paris.  The occupying French desired more than bakeries and cuisine, they also desired places of worship.  In the current times Catholicism is showing a marked increase in attendance whereas Buddhist temple attendance is declining.  Both the Vietnamese and English Masses were well attended Sunday morning.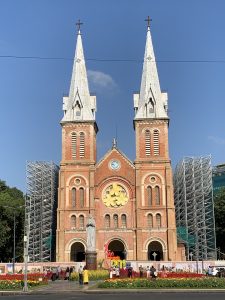 The Norte Dame cathedral towers over a traffic circle. The scaffolding foreshadows restoration. The cathedral dominates the centre of a city.  The wanna-be French undercurrent and the streets of designer fashion houses speak of a desire to be the cultural capital of Asia. The dream may be a stretch but the food, opera, architecture and love-of-life testify to a larger than life footprint — a desire to rise above the ashes of a war history.