Somewhere around the seven hundred plus Stupas the original idea got lost in the grandiosity.  A large Buddhist synod gathered in Mandalay to read the scriptures at a single sitting.  The pages, all 728, were each engraved on tombstone shaped tablets and each housed in their own stupa.  A visual feast. But now only useful as a backdrop for wedding pictures.  I am sure that when we look at all the major assemblies on our earth, be they synods or legislative assemblies or United Nations some centuries later, the grandiosity and the hollowness of their often intended holiness will embarrass us.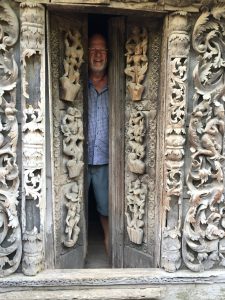 There between the hand carved doors, a face, a head, a body.  The invitation of the closing door was like a gentle good night.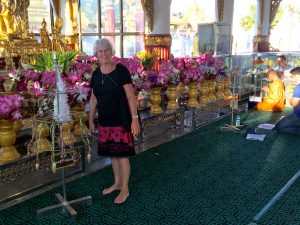 There, Margaret hangs the Lotus necklace. A necklace made from the lotus flower stems. A necklace of sacrificial quality. A gift. When we step into the afternoon sun the nineteenth century synod merely stands as an archaic document. It reflects noble intention without spiritual connection. Reading the scriptures without pause took nearly six months and all that remains are stone monuments. Life carried on. My haunches are that this too will be true of so much of life that parades as prescriptive and that freedom comes when history sees us for what we are. We are human trying to remake a world in our image. There isn't a God that would put up with our grandiosity. Humbled we continue walking in the direction we are sent.