We arrived at the monastery school just before the second meal of the day.  After the formalities were exchanged and the nuns sat down to eat in silence we were invited to join them in sharing some fruit. There at the feet of the sisters one could get a sense that if a 2 year old can live in this community and an 83 year old can live in this community and an immigrant from Vietnam can join this community, this gathering of people was going to be alright.  A community studying together, living together and striving to serve together.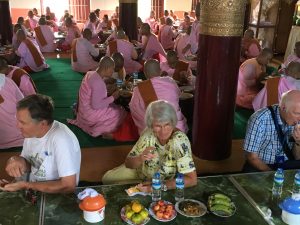 On our way to the monastery early this morning we stopped at one corner of the square moat that surrounds the temple palace in Mandaly. The stretch of water reaching to the horizon reflects the stillness. As reminder of an era past, the water still adds to the serenity.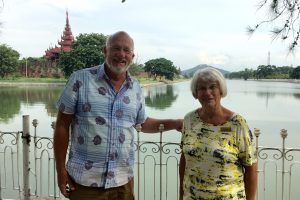 Later as we bounced in horse drawn carts through roads that were not upgraded to keep the motors away we saw the old water and watch tower in the middle of the fields.  Bananas, corn, peanuts, beans and squash rowed out the fields drawing vanishing lines of perspective.  A look at the possibility.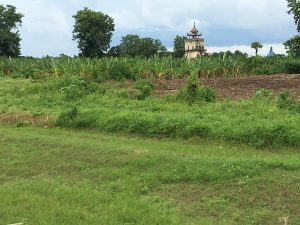 The woman playing the oldest orchestral instrument in Myanmar, the Burmese Harp, mesmerized the room.  The notes learned over many difficult years of practice on an instrument that has no contemporaries in scale or tone.  She made it clear without words that neither nature nor nurture would solve anything.  She played so well we wanted to listen.  The temple on the title piece is in Ava and is what remains after an earthquake rattled the area twice.  The rumblings of nature and the nurture of traditions blend into living — hope always returning.