Some years watering gardens requires a lot of work.  A lot of time attending to the allocation of life-giving water to parched plants.  Between the rows of plants — pathways for feet, pathways for water, pathways for hoses. This was not one of those years.  The well supplied all the water we needed, the recycled cubed containers held reserve water and the "I was so clever" pump gathered rust and dust for 12 out of 16 weeks.  The clouds layered blessings of water on the gardens at the right times.  God was good.  The same clouds that twisted the Bahamian Islands into tooth-picks.  The red sealing wax marks the spore deposits in the Alder logs.  Mushrooms in hiding.  Slower than we expected, but a quick peak promises a crop!
The hoses drained and stored for winter.  The pump returned to the shop for further rusting. Thanksgiving is not so much about bumper crops but more about knowing where the water comes from.  Where the storehouse of water is and the God that makes it rain on time and in time.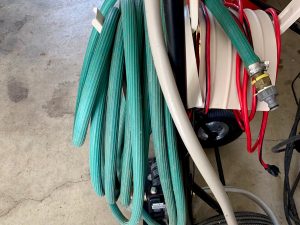 In the shadow of the hoses, a log splitter!  Winter wood and fires and stories of warmth shared in circles as leek soup and winter kale are prepared in the kitchen.  The hoses, much like recovery, when cared for and nurtured will yield results. The fires will be warm this winter.