A river, that serves as highway, drainage system and market place weaves around the perimeter of Bangkok and is connected by a series of canals that maintain water levels behind the various dykes, was more than a tourist trap.  It was an eye opening glimpse into both the scale, traditions and complexity of this city.  The fish, crocodiles, and the floating floral life dodged the direct drive propellers of the long boats. Each having learned co-existence.  The peddler with her boat-load of trinkets is passed off as the "new" floating market.  I missed the actual floating markets on this trip because tides, time and our guide made the bartering for green onions difficult.  He did, however, slow down long enough for the peddler of river trinkets to grab on to our boat,.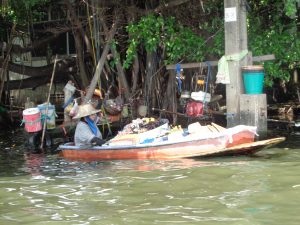 The piling supported houses line the banks of the river and canals. Each a home for an extended family with potted gardens and rotted decks.  The tropical jungle and the monsoons that accompany the climate here have a way of eroding every structure so the jungle can return.  In the steam of the post-monsoon rain it is easy to hear the jungle pushing for control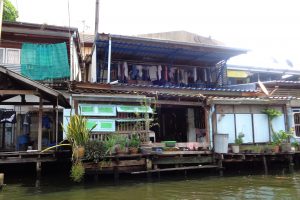 A tourist glance as one floats through locks and up canals permits a sneak preview of what is to come.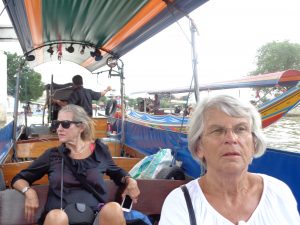 On the river one gets a sense of an other era.  No, the roar of the unrestrained muffled straight six engine was not a throw back.  The river gave us a peak into the windows of Bangkok.  This is a look at the past and a flooding to the future.