Like in all debates, and we have endured our share this season, bragging rights become that cursed reality wherein our higher purpose is exposed for fickle narcissism. Our self-love or our love of our own ideas become more important than healing brokeness.  In religion, sex, race, politics or even family our experience and learned dogma overrides our ability for compassion.  This braggadocios Buddha raised on the tallest peak on Phuket island sits unfinished and underfunded.  Every visitor is invited to fund the set of marble tiles on an image that will rival the Cristo Redentor on Mount Corcovado in Rio.  Cristo is 30 meters tall and covered with 6 million stone tiles. The Big Buddha is 45 meters tall and when completed will be covered, by some local estimates, with over twice as many tiles. The tiles as in the case of Rio bear in-memorium inscriptions for persons or events that are recorded on the reverse of the tile.  A memorial raised for many generations. A visual stand-out.  The trip up the mountain was a short 20 minute ride from the NA meeting in Karon Beach.  It was a sunny Sunday and the waves stood two meters on the beach at Karon.  At the top of the mountain a road sign.  Nothing left to go!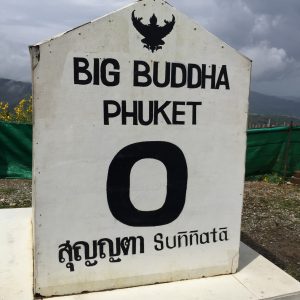 The accomplishment of 0 did not mean arrival but rather the end of the road.  Standing at the bottom of the staircase, with roughed in dragon tails shaping each banister, the journey up seemed momentous.  Splashing in the puddles of untiled stair treads we bounced our way to the base of the Buddha.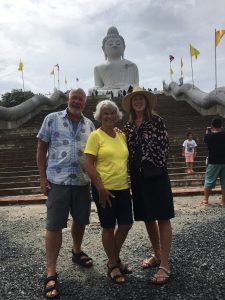 As with the Cristo in Rio, tiles were being sold like indulgences, a way to accomplish a three gong sounding of the temple bell.  A marker of good deeds.  The sales agent (deacon, student, tour guide) took our money with a smile and handed me a blunted blue marker to inscribe the marble tile.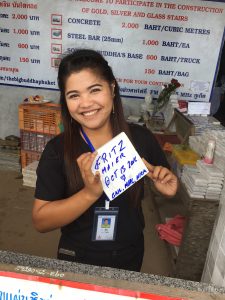 We knew that putting nothing in the coffers would be as good as a life's saving.  We pledged enough to create memory so that Fritz could live forever in our story.  A whole sense of eternity that neither Christendom nor the reincarnation can handle with theoretical theology.  This bigger and better culture ultimately leads to the dead ends of theology and the beginnings of compassion.  The beginning of a spiritual journey, a way of living in the valley, a way of being that puts food on the table for everyone.  Fritz knew that food would bridge all our differences into forgiveness.