The blues have been augmented by applied swatches of bold colours. The bean bag chairs scattered across the beaches are sheltered from the equatorial sun by ceremonial Balinese and Hindu umbrellas. The Canadian west coast showers need big umbrellas to shed the water. Buckets of reminder that we live in a rain forest. The beach umbrellas on Bali protect underexposed skin from that painful red crisp finish that is easily scoured by sheets!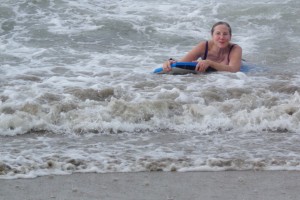 This afternoon a tropical rain storm rolled across the island. The rain splashed in the ocean as we swam. Walking in the rain watered the colour from the landscape. Then as the sun broke through the clouds, a spectrum of colour emerged from the steaming tropical jungle.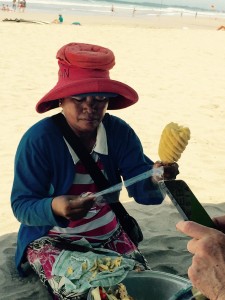 This mother, without home economics classes and training, carved a whole pineapple into stick food in minutes. The ceremonial craft prepared a visual feast – fresh without preservatives.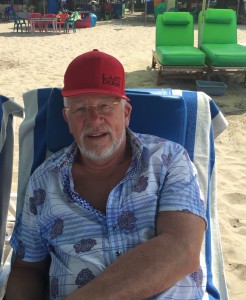 I tried hard to match her bright red hat! This laying back sheltered from the sun savouring colour can go too far. A few blocks from the beach I found the mad-hatter of salons. Hair, nails, pedicure, massage and colour. There is no denial left. I had to have a pedicure so I could spend an hour in this temple of colour.
Walking back to the beach we talked about colour in lands that touch the equator, that are influenced by the light. A Van Gogh conversation about light. The big questions keep repeating: "How come colour is so anemic in much of North America? Are big box buyers promoting average and peddling neutrals?"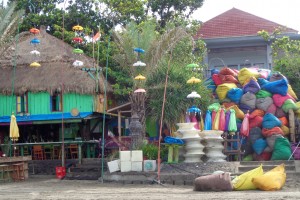 Walking the streets of Bali and stopping to eat at that table! In that restaurant! Ordering that beverage! Was a journey of remembrance. A Lenten journey remembering those who died before us. Those who died and gave their living for healing. I shared a meal with my long gone friend Michael. A Budhist Eucharist in Lent. If you ever get a chance to pause and remember spend an hour at Made's Warung and savour the colourfulness of memory. As I savoured a fresh Lassi I was reminded of the first time my friend Michael stretched my pallet. The memory served as reminder of what was lost but also as a foreshadowing of the effect of shared experiences in recovery. Colour resurrects memory and story returns living to experience. Lent may feel a little pale but Easter returns full spectrum living.