Carved into the bark of a fading and wind topped cottonwood tree is a twisted winged creature arising Phoenix-like from the rotten bark.  Carved skillfully by Elmer in 2017 and left in the Prince George Park for us to discover.  An example of life living on death.  In the Edmonton Organic Gardens at the U of A there was a compost heap of shredded vines and gathered organic matter composting at the appropriate temperature in organic I soil to nurture future crops.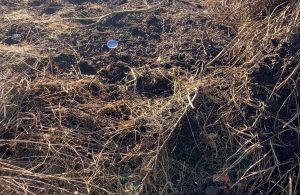 The small dial of the thermometer barely visible.  This was science!  Compost nurtured at appropriate temperatures into soil.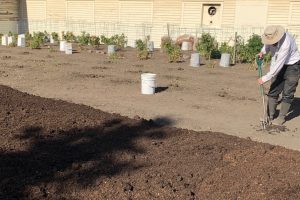 The compost spread like layers of a lasagne on what will be a garlic bed.  Fall planting before the frost!  Several days later in Terrace I paused to layer leaves (Walt Whitman…) of grass and maple and retired planters into a compost bin awaiting spring.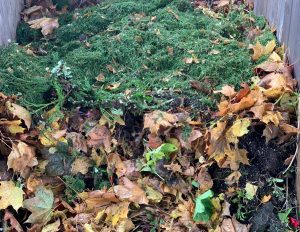 This cycle of nature nurturing itself might be a lesson for the whole planet!   Rotten stuff will simply get layered into compost to nourish the soils of growth.  Life thriving on the dead-ends of living.